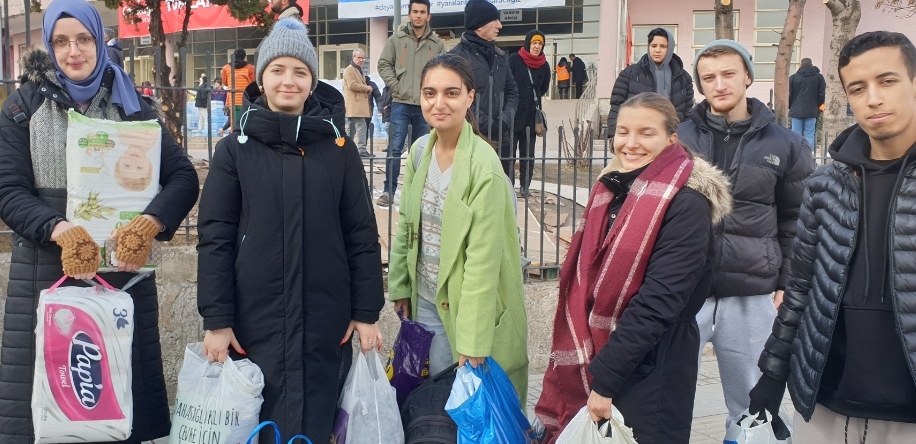 After the massive collapse of cities in Turkey caused by the earthquake, volunteers from all over Turkey gathered to help the victims and their families. S&G volunteers collected clothes, and first aid materials and went to the sports center of Ankara to help other volunteers donate essential items. People from all over the country were sending medications, food, clothes, and other hygienic items. As volunteers, they unloaded, unpacked, and sorted all the boxes to be shipped to Hatay, Kahramanmaras, Gaziantep, and other parts of Turkey.
Countries System and Generation's volunteers are from, also contributed and helped Turkey in such a tough time.
•Georgia sent a rescuer team of 60 people
•families, universities, schools collected clothes and medicaments and shipped them to Turkey
The Cabinet of Ministers of Ukraine issued the relevant order, according to which a combined search and rescue team of the State Emergency Service with a total number of 87 people, including 10 members of aircraft crews, will be sent to the Republic of Turkey for assistance in liquidation of the consequences of the earthquake.
https://www.ukrinform.net/
Following the earthquakes that devastated Turkey and Syria on February 6th, Portugal was one of the first countries to show solidarity in the face of the tragedy, with Prime Minister António Costa expressing that "It was with consternation that I learned of the earthquake that struck Turkey and Syria. My thoughts are with the families of the victims and all those affected by the disaster. Portugal is in solidarity and available to help, in coordination with our partners".
The country rapidly provided physical and monetary aid to the affected regions, having sent an operational force consisting of 52 operatives, with skills in search, rescue, protection and relief in collapsed structures, as well as six search and rescue dogs.