Ahmetİkbal Adlığ
We came to Romilly-sur-Seine to participate in the "Learning green values through sport in nature" between 17-24 October. It was the 4th project I participated in and I can say it was one of the best. I love small town projects and so was this project. We stayed in a mansion-like house and made very good friendships with people from different nationalities. I'm sure these friendships will last a long time.There were good sessions related to the theme during the project. We attended various panels and debates. We did various sports such as athletics, the long jump and football in nature. We discovered Romilly with a treasure hunt session and lastly, we said goodbye to this beautiful week by getting our YouthPass certificates. It was one of those weeks I will never forget. I would like to thank the System and Generation Association and Romilly Sports for this opportunity.
Ceren Bellur
Sports and Green Values Project was one of the most developer experiences of my life. In this project we did different activites to improve ourselves every day. We learned many new things about green skills and sports. We discovered new places because of the treasure hunt event. Also this project enabled us to get to know different cultures and promote our own culture. Organized culture nights broadened our horizons. Because of this project i learned a lot of new sports, i tasted different flavors, i met new and wonderful people and i improved my green skills. Therefore i would like to thank to System and Generation for allowing me to join Sports and Green Values Project.
Mehmed Şamil Akın
Within the scope of the Sports and Green Values Project, the Erasmus+ youth exchange program between 17-24 September was a very different and beautiful experience for me. It was and so a great idea that I had the opportunity to be abroad for the first time through the Systems and Generation association and to be involved in a project where green skills combined with sports. Throughout the project, we met with people from different countries and exchanged ideas on the climate with them. Activities, culture nights were enormous. I have to admit that when we are together, we are beautiful, different nations, different geographies, different agendas...
Betül Bakır
We discussed social issues with each other. We presented new ideas to each other and made presentations about it. We talked about nature. We did sports activities together. I saw and did sports that I had never tried in my life. We introduced each other to our countries, cultures and foods. we started the day with fun games and we played games during the day. We discovered a new country, a new culture, new food and new people. We helped each other and had fun together. it was a brand new experience for me. I tried new things, made new friends and I had a lot of fun in these activities.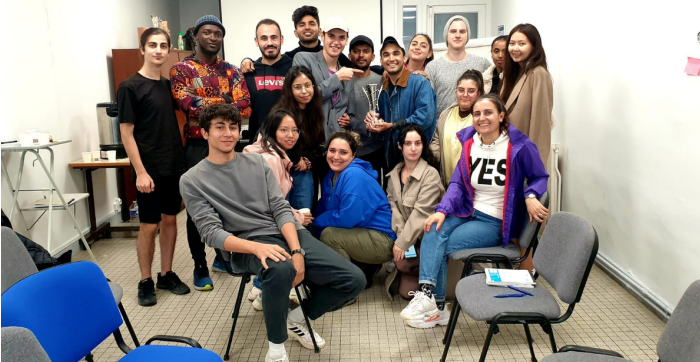 Tuğrul Topal
Sports and green values project was my 5th project, but I can say that it is one of my best projects. I've never been a group leader on any project before this was my first experience. In project, trainer Esmeralda was really well prepared and took great care of us. Also, there were friends from countries such as kazakhstan pakistan italian albania in the italian team in the project. I have never been together with people from so many different countries before. The discussions we had on the subject of the project, the presentations and the coffee breaks while doing them were really well balanced. We didn't just do presentations, we also did sports. I have to say that I was a little tired with the long jump, running, the games we did with the vortex ball and the football match, but I definitely had a lot of fun. Evening meals were very diverse, different kinds of food were served every day and it was good. On our free day, we went to a show held only twice a year. I must say that I was really lucky to watch this, we watched the show of eagle owl and many kinds of birds that I didnt know before. For all this, I must sincerely say that i am very grateful to the System And Generation Association. I am confident that the friendships I have gained continue and will continue in the future. I want it to say it again thank you System And Generation.