On the 28th of December 2020, System and Generation Association's Volunteers were welcomed at the Etimesgut Municipality.

S&G Volunteers received certificates for their high commitment volunteering with people with intellectual and physical disabilities, fostering their participation and social inclusion in society, in cooperation with Turkey Home Health and Social Services Association, and Ankara Branch.
A special message of gratitude was typed and posted from Mrs. Zeynep Küçük Acaroğlu, Engelliler Koordinatörü at Etimesgut Belediyesi: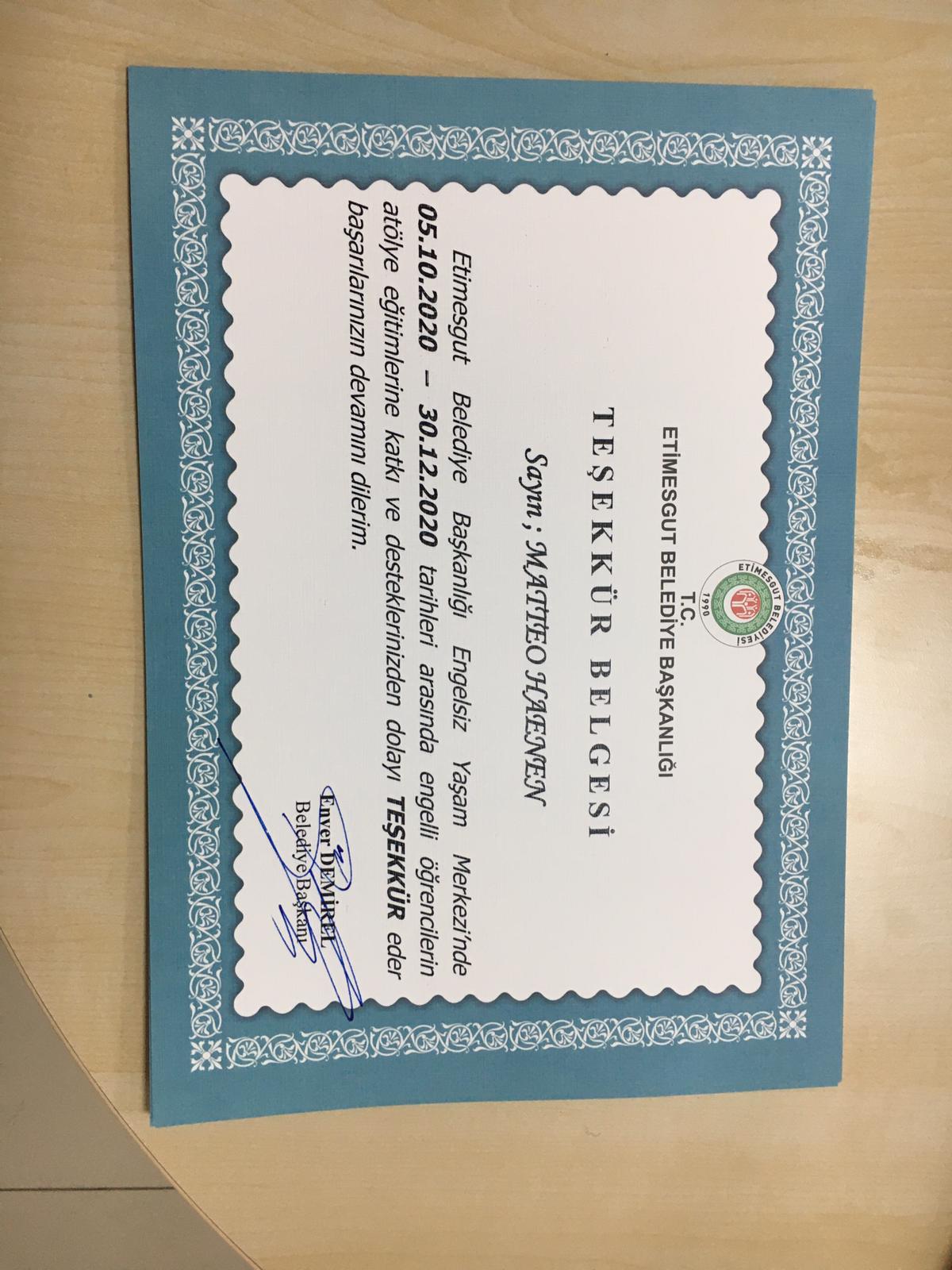 "THANK YOU TO OUR VOLUNTEERS
With the support of the General Directorate of Disabled
and Senior Services of the Ministry of Family Labor and Social Services
Turkey Home Health and Social Services Association
Ankara branch (EVSAD) System and Generation Association - 11 representatives of 11 countries, who came to our country along with S&G spent their social service in our district for volunteering activities, contributing to the workshop classes of our disabled children and shared their experiences at Etimesgut Municipality's Unabated Living Center and participated in our vision scans.
For 2 months, they had the opportunity to see our sensibilities closely and get to know Turkish culture.
Our students, who also introduced the facilities of our municipality, admired our Turkish history park.
Our wish to the volunteers, who received ′′certificate of gratitude′′ from our Mayor Mr. Enver Demırel for their contributions and each of them be a separate gem, is that may their success be eternal."
(Find the original message
HERE
)
The list of names of the volunteers who contributed in this collaboration:
1) Dzaner Shengjuler (North Macedonia)
2) Mustaf Mustafa (North Macedonia)
3) Matteo Haenen (Italy)
4) Huri Askerova (Georgia/Azerbaijan)
5) Alessandro Mizii (Italy)
6) Maricica Velicoglo (Romania)
7) Enrique Rubio (Spain)
8) Anastasia Shevtsova (Russia)
9) Elif Akdogan (Turkey)
10) Tolga Can Candan (Turkey)
11) Hatice Pekdemir (Turkey)