Lia is a Lia is a 20 years old girl which already embodies the skills, responsibility but mostly the consistency, which should be shown in every young member of our generation. Despite being a solution-oriented member of our society, she does not let seriousness take over her life completely, as she confided us :"I love to collect lighters and coins, as i am passionate about history and museums".
This peculiarities follow her in her private life, spent planning and visiting the most interesting locations on the globe, discovering the beauties but also the downsides of the most various cultures and traditions.
Furthermore the BA in International Relations, which will be shortly meaning a new achievement, together with the multiple experiences she has already had as an intern in different consulates and international organizations, enable us to depict most of the professional background and skill-set that Lia is proudly able to show..
Thus, one of the most catchy shapes of her speech, has regarded the passion used to wish a fruitful future for herself and her country, with the hope to become an impactful member of the Georgian society, where she belongs. In fact, according to her plans, a Master degree in International Relations, which will probably take place in Georgia (budget depending), will represent her proximum future.
Plus working in Azerbaijan in the consulate during the upcoming year will widen the path towards a successful career in the field of diplomacy. The efforts put into this hard-working study's path will surely turn into a virtuous impact in her home country as wished by Lia in person.
---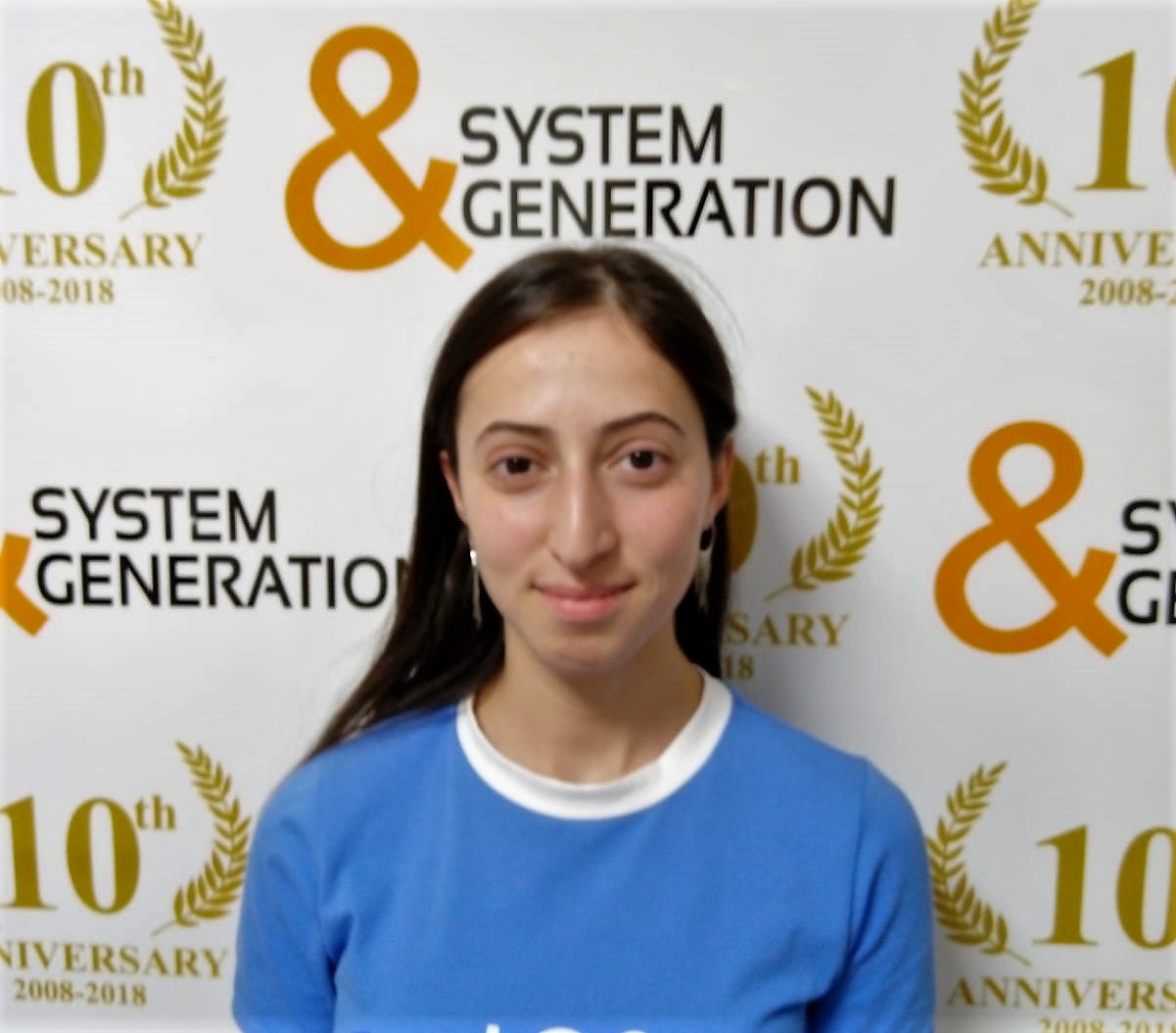 Lia started her collaboration with System and Generation during the first week of September, comprehend multiple and heterogeneous social working, which wide up from working with mind-challenged kids to the holding of a conversation club, where members engage in a deep variety of languages and topics.
According to her own words she seems to have found the perfect working environment, in an Organization which stands very close to European values such as citizenship and solidarity: " It is rare to find an Organization or association which stands close to the European Union and its values, especially in Turkey". In particular, Lia underlined the importance and tight ties of the working methods and values, expressed in the Organization's daily life. The capability to conjugate internal boundaries within the working environment, together with the myriad of activities showcased within the Turkish civil society represent an enriching element for her and all the other volunteers.
We are sure that this experience will be able to unlock her skills at their best potential, enlarging and strengthening her problem-solving, creativity and management skills. The impact of young and open-minded individuals will surely be the game-changing driver, not only of S&G in its ontological essence , but mostly for the society in its whole, in the constant need of new and fresh values.
The possibility to work with foreigner members of the same environment, and the evaluation of different perspectives, implies the share of knowledge and emotions with an underlying hope for a better understanding of global social issues.
Our reflections are totally shared by Lia, which puts trust into the possible cooperation of different social and working models, considering the substantial differences which still remain dominant in the field of social working.
Surely motivation, consistency and multi-dimensional cooperations will enable major efficiency and efficacy of the role covered by S&G, but also and most importantly by the members which actively take part in every single step that is grounded in the Organization's path. We believe in the power of this generation, and young students and individual of the society like Lia can but only mean a bright future for our society, thanks to their skills, passions and consistency.