"Art as a tool for Human Rights" is a Youth Exchange that took place in Kokkola, Finland, from the 28th of July until the 4th of August 2019.
It was planned by local young people, funded by the Erasmus Plus Kay Action 1, and it involved 20 youngsters and 6 group leaders from Finland, Italy, Romania and Turkey.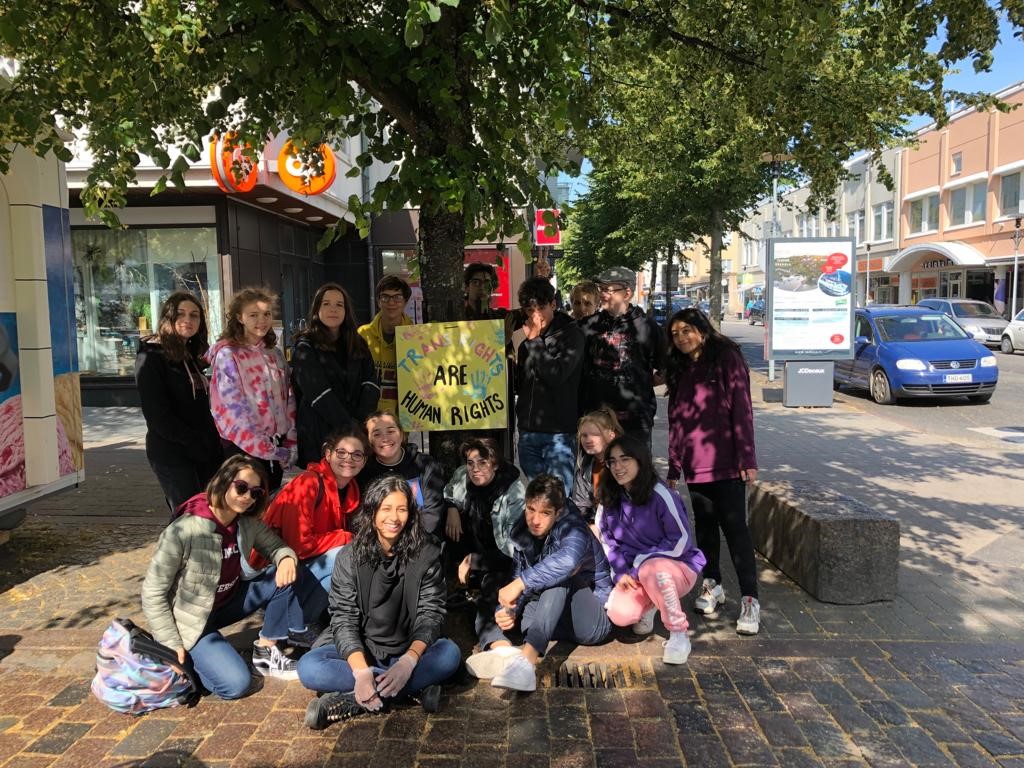 The main goal of the exchange was to support young people to emphatize with minorities and groups at risk of social exclusion.
Gladly, the project was very successful and fruitful for the young people involved. During the week they had a great chance to increase awareness on human rights and on the topic of social exclusion, learning through no formal educational methods.

Some testimonies from our dear participants, that represented "System and Generation Association" during the youth exchange:

EREN YIGIT (15) : Firstly, I have been before in Finland. As a younger participant and had a great experience just like I did this time. With new friends I experienced new languages and cultures in a great way. I believe I improved my skills like communicating with other people, working in groups and leading people I just met. But the most important part for me was making new friends. And also we made an exhibition on the center of the Kokkola about "Human Rights". It was so fruitful and improving activity for all of us. We create our own signs what counts as art and we had soo much fun during the exhibition. Even now I'm emotional because I know we will leave soon and I just don't want to. But sometimes we need to end it at the top.


KAYRA PURTAŞ (16) : That was my first time going abroud without my parents and prove myself to standing on my own feet.Thanks to "Art as a tool for human rights "project i have learned and discovered so many new things. While going "villa elba "i had fear of not making any friends or being shy about expressing my opinions. However my any doubt was not come true and i have spend my best 1 week in my life. I have made so many international friendship(still in contact) and interact with other cultures. Also with usefull activities and workshops my awareness for human rights was increased. During this youth camp one of the situation that make me amaze and hope good things for future was without our smartphones we can still live and spend time with each other. By this i can understand that we can implement the human rights by togetherness.

ORKUN CAN (16) : I was so excited before I go to Kokkola. Our journey to Helsinki was long but we enjoyed. Kokkola is a small town but accommodation and people are so nice and good. I could get a chance to meet with new people and in a short time we become so close friends. On the other hand our topic was "Human Rights" which is one of the main problems in the world. Thanks to our workshops I could observe the situation in other countries. We try to share our knowledge via our presentations. I think it was good to learn something about my own country and also other countries.

ELİF HERDEM (15) : It was my first time being in another country so I was so nervous but when we arrived Villa Elba everybody welcomed us. There were a lot of new people to meet. Slowly day by day, workshop by workshop we started to be friends. We were learning new things about human rights and also about each other too. It was so fun to play games and make signs about human right together. We helped each other, we all taught some things about our countries. We discussed about how the human rights are in our countries and how they should be. And we saw that we had the same aim: to protect the human rights. We all want people to be happy so we thought about how we can do it; we can do it only with the human rights.