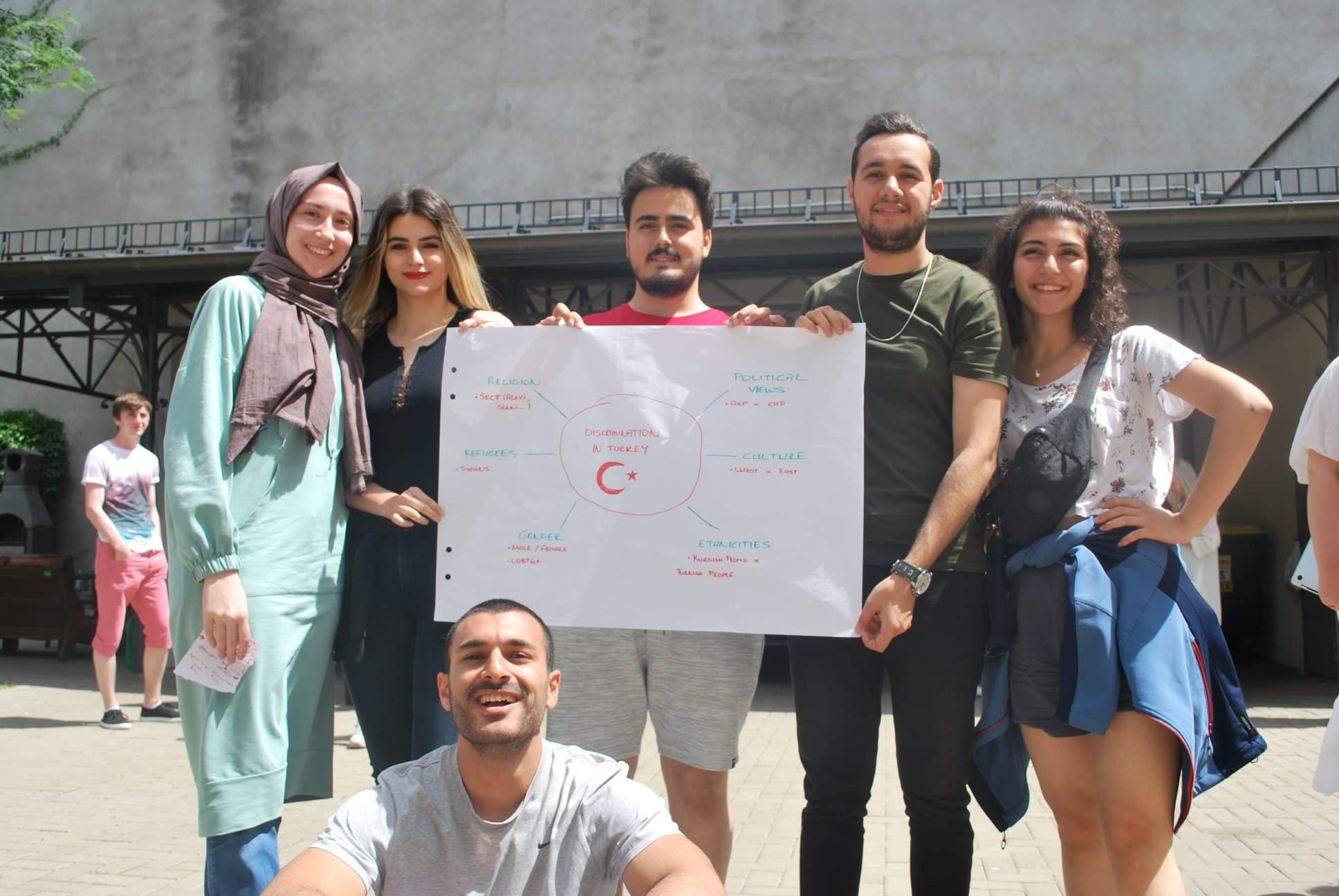 In the dates of 20-27 June 2019, we participated in the Erasmus+ Youth Exchange "Hope not Hate", Lodz, Poland. The topic of the project was fighting against discrimination and hate, generally. During the exchange we implemented several activities related with the topic. Each country group mentioned the discriminations that they facing in their countries, also we expressed our ideas about the types of discrimination( like religion based, sexual discrimination or ethnic based discrimination ). At the and, we created videos about these types of discrimination with mixed groups, and posted on Youtube. Here are the links of videos we created:
HERE
HERE
and
HERE
And our participant's opinions after the project.

Hatice Kubra Karatepe: This project was my first project and it was also my first experience about going to abroad. During this project, I learned lots of things about discrimination types and how to avoid discrimination. In addition to this, we also learned about problems of immigrations. It gave me inspiration and power to do something more about this topics. Moreover, I met different people who have different cultures. It provide that, meeting different views of people who have different cultural and religious background. It was a good opportunity for broaden my horizon.
Erensel Turkmen: Youth exchange "Hope not Hate" was a totally unique experience for me. It was a huge chance to widen my perspective, improving my public speaking, language and team working abilities, and to gain experience about the discrimination topic. We prepared some presentations, team building activities and made videos about the discrimination&hate topics. In every activity, I learned a new thing and I surprised after all of them. All the people were very open minded and it is sad to end up this experience. Now I feel more confident, open minded and improved about the discrimination topic. Beside that, I feel like an international citizen. Thanks to the S&G familiy for making part of this journey.
Omer Faruk Kahriman: ''Hope not hate'' project in poland was my first project becuase of this reason ı would have so many experiences about these youth exchanges. We get the chance to meet 5 different contries come together and talk about causes and effects of discrimination. Gaining a deeper understanding of discrimination. Coming together from different counrties understanding more about intercultural dialogue. I'm so happy to be a part of this project. It was a great chance for me and also the other participants make this project more essential.
Simay Turkmen : Being a part of this project was the most fun and informative thing that I ever done. During the project I had a chance to learn how other participant countries face with discrimination issues and how can we make things better even individually. In addition to this, we made campaign videos about different topics of discrimination to show how bad it is. Other than this, meeting people from 5 different countries gave me the opportunity to learn more about the world. Also, I gain lots of friends and spent great time during this project.
Huseyin Cignitas: This was my first project. I was so excited before I went to the project. I was going to meet people from five countries. The project was very nice from the first day. The people who participated in the project were very friendly. We as the Turkish team very well fused. I think I have a very productive project. We evaluated the causes and consequences of discrimination together. It was a very fruitful job for me as a lawyer. I would like to thank the S & G family for their participation in the project. Every young person should participate in such projects one day. It was one of the rare experiences in my life. When I look back, I can see that my 9 days are very happy.
Elif Ezgi Kilinc: It was the most enjoyable project I participated. I interacted with new cultures and people. I learned and taught new things. We visited new places and tried new tastes. It was very difficult to return to Turkey. Hope not hate forever :)