Between 7 - 13 February in Barcelona, Spain, was organized the YE El poder de las palabras (Storytelling).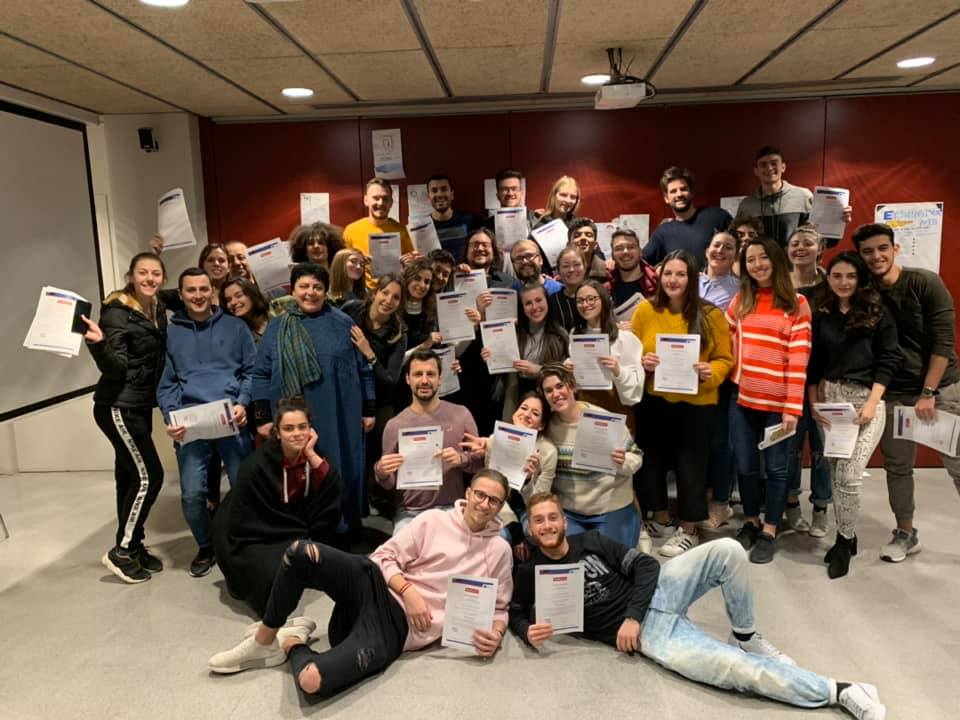 System and Generation Association was participating there with 8 young people.
Read their stories here:
The first day of this youth exchange started with brief introduction of the project and objectives, the methods that will be used during it, timetable and results expected. It was also dedicated by gathering and getting to know each other, with interactive games and ice breakers. It was a greatful opening for the participants by sharing their expectations, fears of what is coming up and using this youth exchange as an opportunity for creating friendships that will last forever. Later on, we had a chance to work in teams, explore the city of Barcelona, meet the culture and people living around. As an team building activity, we had a chance to meet each person better, capability of expressing own opinions. At the end of the day, we were devided in different groups in order to evaluate the day by answering questions of what could be better and what we have learned. And to end up this day in a right way, we used the night with passion game.
Day number two started with the theme of social exclusion and social inclusion. And that is how it ended. Whole that day we were focused on this topic, beginning firstly with introducing what does it really mean and our knowledge and experience with it. We actually realized that this topicis very familiar to us and that each one of us has been either a victim or a vitness of a social exclusion/inclusion. We were open to share our experince and also fell the emphaty for these people. The most interesting part of this day was when we were seperated into groups and each group had to express a diffrent type or factor od social exclusion/inclusion with a particular method. After working together we were able to present our work which was shown in a really interesting way and we had a lot of fun. As every other day this day also enden with evaluation where we could have express our feelings and emotions about that day.
On 9th of February- Saturday, we had had the third day of this Youth Exchange. It started with the topic of stereotypes and enden up with us learning new things and methods about public speech. Firstly we had to a stereotypes that we had heard about for each country and than we were able to discuss about them. When actually we had an opportunity to reject, defend or agree with the stereotypes of our country. After the lunch break we were introduced with the topic of public speech and every element of with. To enrich our techniques we were able to make a 'real' job interview and then estimate our strong and weak sides, or better said where we should get better while making an interview. Thus, were able to share any technique that we know to help each one of us in further communication. We closed the day with an intercultural night, where countries of Bulgaria and Italy presented their cultures, traditions and food.
This project was during 7-13 February in Barcelona. It was a good opportunity to meet and interact with people from Italy, Spain, Macedonia and Bulgaria. We created good friendships and also explored the city of Barcelona. I contributed to the development of my awareness of social responsibility. Enjoyed singing, dancing, craft making. We shared and discuss our thoughts about discrimination of race, nation, gender and religion. We empathize with all of these. Day by day, we evaluated with answering questions of what could be better and what we have learned.
Now, I am aware of conditions of people with different social backgrounds. And I know what is the social exclusion/inclusion.
I'm so grateful to be a part of Erasmus+ project.
....
To read all please visit the official BLOG of the project.