From 7 to 9 of February 2019, Youth Center FITT in Timisoara, Romania, hosted the General Assembly of the European Network of Youth Centers (ENYC)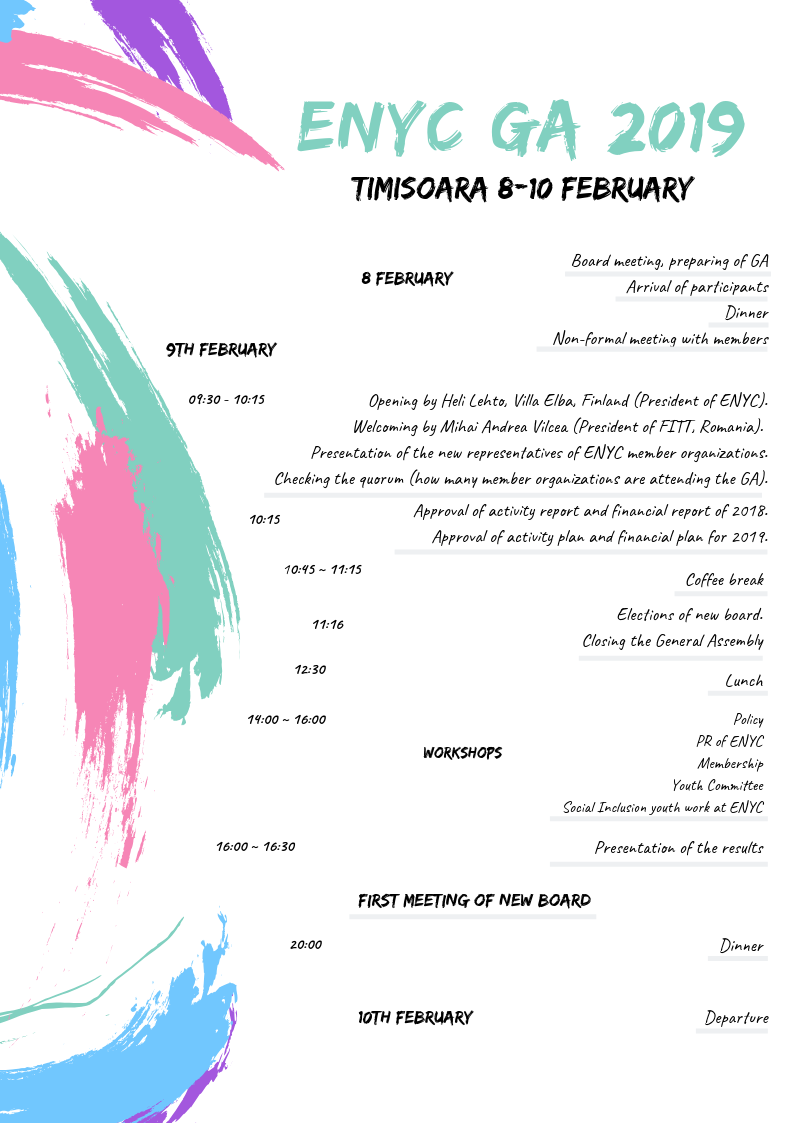 on 7 and 8 of February, the board of ENYC gathered to prepare the agenda of the Assembly.
The topics, discussed during the meeting were
Program of GA
PR materials
Elections of the new board
Reports – Activities and Finance for 2018
Plans for 2019
The strategy of ENYC until 2021 (vision, where is ENYC now and where we want it to be at 2021)
Priorities
Activities
New members
Funding opportunities
The vice president Nadya Marinova has prepared promotional materials to be shared amongst the partners.

New domain for the webpage of ENYC will be created soon and it will be updated with the most recent information from the partners

ENYC STRATEGY UNTIL 2021
Activities – to be increased by 20%
Members – to be increased by 20%
Finances – to find external funding for the network
Youth committee – involving more young people in the work of the network
Visibility – new email, updated webpage, and social media
By 2021 – ENYC has 25 members
Increased Acceptance by EU bodies
Managing at least 1 program
ENYC academy – Pool of trainers, Pool or Youth committee members, entrepreneurs etc
ELECTIONS 2019
On 9 of April, the Assembly organized the Elections for the new members of the Board.
After an open vote, the new member of the ENYC Board are:
President – Ms. Heli Lehto
Vice president – Ms. Yolanda Florescu
Secretary – Ms. Armela Pengili
Treasurer – Mr. Mitja Valentic
Member 1 – Ms. Erica Munkova
Member 2 - Mr. Gürkan Akçaer
Member 3 - Ms. Nadya Marinova
The next planned ENYC meeting will be in April in Kokkola, organized by the partner Villa Elba.