S&G in collaboration with AIESEC is hosting interns in our office for projects with the duration of 4 weeks.
The interns are coming from differents countries, so far for this year we hosted students from Tunisia, Ukraine, Denmark, Kazakhstan, China and the kinghdom of Bahrein.
The interns are joining our work in the office by writing projects but also are free to implement their own projects.
With Dimitri from Ukraine we developed new project idea for students exchanges called "Uni-go which is in active preparation and soon will start the implementation.
Chourouk from Tunisia was organizing French and Arabic lessosns in our office as well as was giving English lessons in a local primary school.
Sabina and Sandra from Denmark and Kazakhstan were actively writing a project that was submitted earlier in February.
Coby from China was working on another call for civic society dialogue project while giving chinese lessons to our volunteers. She was visiting the primary school as well where she shared more about her country and traditions. She was actively participating in the activities of our volunteers such as visiting the Elderly House and Saray Center.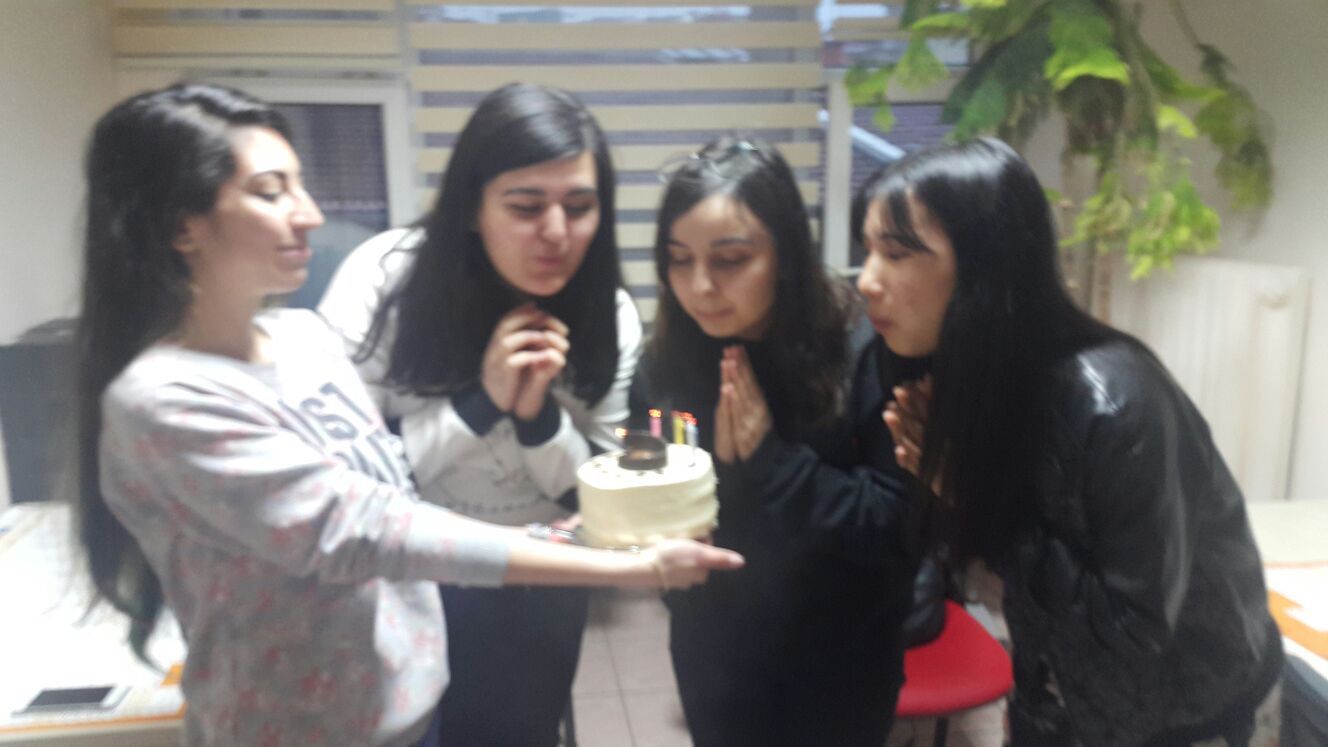 Here is her reflection on the internship she had with S&G:
Without any exaggeration, I already felt myself running out of time on the first day in S&G because very on-going activity was waving at me to join but I had only one month of time! Therefore, I really worked like a bee, taking part in any activity or project that I could help with.
Among all activities including going to elderly house, doing handicrafts in Saray center, helping to write projects and participating in language clubs, I fell in love with teaching English in middle school most. In school, the class and I developed such a deep bound that the students were always saying "Coby teacher, do you love our class?", "Coby teacher, we love you!" And every time their English teacher Miss Nihan and I met, we actually ran into each other and gave each other the typical kiss-on-cheeks Turkish greetings! I am so gonna miss them.
Finally, please allow me to share two comments from my friends and peer volunteers that I took with the most pride. The first one was from Angela and Jacopo, saying that 'Coby you are so Chinese!' as a compliment that I was hard-working in both learning Turkish and doing other things. Hhhhh I am honored to have gained face for China. The second was: 'Coby you are dancing exactly like local Ankara people!', from one of my Turkish friend during when we were having fun with 'Ankara Dance'. Thanks!!! I love Ankara dance and I love this wonderful land! Last but not least, I am sincerely thankful for this valueable opportunity to be a family member of S&G, and sincerely wish that our connection will keep alive in a longer term!
... ... ... ... ... ... ... ... ... ... ... ... ... ... ... ... ... ... ... ... ... ... ... ... ... ... ... ... ... ... ... ... ... ... ... ... ... ... ... ... ... ... ... ... ... ... ... ... ... ... ... ... ... ... ... ...
Chinese translation:
毫不夸张地说,来到S&G的第一天,我已经觉得时间不够用了。这里有这么多姿多彩的项目和活动等着我加入,我却只能在这里一个月!那我只好像只小蜜蜂一样勤快一点,能干啥就撸起袖子加油干。
在参观老人院、在Saray center做手工、协助写项目、参加语言角等等这么多活动中,在中学里教英语是我的挚爱。我那个班的同学和老师跟我真是一拍即合,每次去同学们都围着我说"Coby老师你喜欢我们班吗?"、"Coby老师,我们好爱你呀!"还有他们的英语老师Nihan,每次见面我们都忍不住冲上去在对方的脸颊上来两个土耳其式亲亲来打招呼。回中国之后我肯定会很想他们的!
最后,请允许我分享两个让我感到超级自豪的来自朋友们的评价。另外两位志愿者Jacopo和Angela对我说:"Coby你真是太典型的中国人了!"他们说我总是像个中国人一样学土耳其语也好,做工作也好,都卖力得可以。那我很开心给中国人长脸了哈哈哈哈。还有一次,在和朋友一起跳舞,被夸"Coby你跳得简直就像是Ankara本地人在跳舞!"哇真的开心,我爱Ankara dance,我爱土耳其这个神奇的土地!最后的最后,真的很感谢这次机会让我能成为S&G的其中一员,也衷心希望以后能够有机会继续保持联系!
Another interns that we had are Feyza and Nisa from Ankara.
"Firstly, I have been a volunteer to do internship in S&G and I was very happy during my internship. I think that I really have learned to use the time well and at the end of this internship, I believe that the internship is improved me. For instance, my language ability was improved much especially writing and speaking skill because I had to speak in English and translate to English in Turkish sentences. Also, I have met well-connected people and I have been a sociable person much more than before my internship. My plans for the future are shaped with this internship no longer, I am waiting to my future in hope. Finally, doing the internship in S&G is my first time in my life, for this reason it always has a place in my heart."
-Nisa
"İlk olarak, S&G'de staj yapmak için gönüllüydüm ve stajım boyunca çok mutluydum. Gerçekten zamanı iyi kullandığımı düşünüyorum ve bu stajın beni geliştirdiğine inanıyorum. Örneğin, dil yeteneğim özellikle konuşma ve yazma beceresi çok gelişti çünkü İngilizce konuşmak ve Türkçe cümleleri İngilizce çevirmek zorunda kalıyordum. Ayrıca,çevresi geniş olan insanlarla tanıştım ve stajdan önceye göre daha sosyal insan oldum. Artık, geleceğe dair planlarım şekillendi ve geleceğimi umutla bekliyorum. Son olarak, hayatımdaki ilk stajım S&G'deydi bu sebeple bunun yeri her zaman kalbimde olacak."
-Nisa