From 15-18 of May at Congressium, Ankara, was organized "Genclik Haftasi"(the week of Youth Centers). The main actors of this amazing event were 81 Youth Centers from different cities of Turkey. Each one of them represented their specialities, their traditions, their specific delights and cuisine, their experience, activities and occupations. The event was more than intersting because there you could find almos whole Turkey gathered in one place. By going from one stand to another the experience was different, as you were travelling hundred kilometers to go from one city to another.
System and Generation and its hosted volunteers(from: Albania, Macedonia,Ukraine, Italy, Morocco,Georgia, Spain) were kindly invited in this event to 'meet' the enormous culture of Turkey.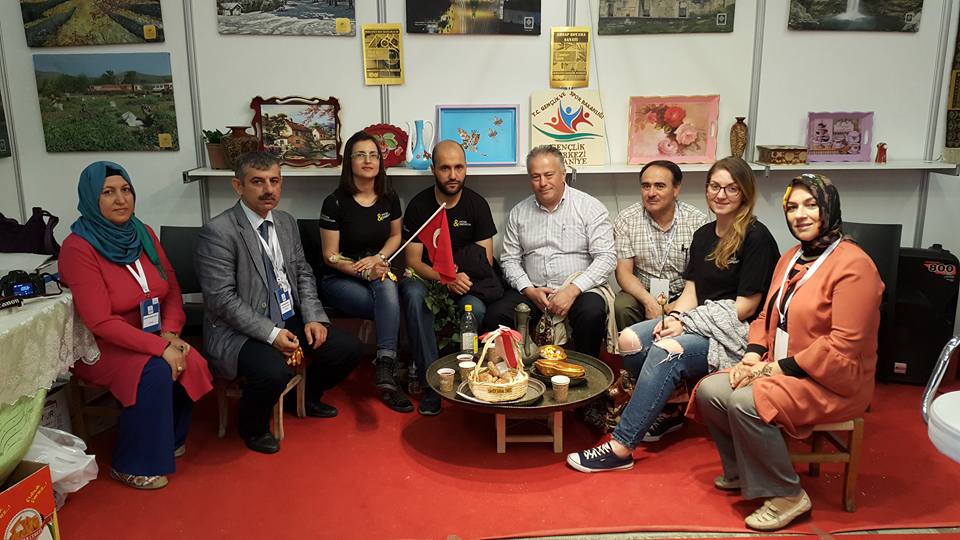 We had the opportunity to visit all the stands one by one and find out the characteristics that each city has. Thus, each city had its own specifics, traditions, characteristics but, all of them had one thing in common: the hospitality. They explained us their own traditions and all the stuffs they've brought in the event and they seemed to be very satisfied to spread their 'world' to the foreigners, whom probably will have many memories to tell even when they will get back to their countries. A lot of time we spend at the stand of Çorum city. Mr.Mehmet Tiğli(GSB Director of Çorum Youth Center) and Mr .Murat Çabuk(Leader of Çorum Youth Center) invited us to join their stand and whom explained us a lot of curious thing related to Corum's history. We felt home there and guess everybody forgot about being foreigner. They prepared special gifts from us such were writing for each of us the names in calliography. We had other gifts from other stands such as turkish delights, flowers. We felt appreciated and welcomed. We entered in the Congressium with the desire to discover more about Turkish culture and went out full of memories and information.