Mr. Gürkan Akçaer, the President of the System and Generation Association, provided information about his Association at the Meclis Özel Ekonomi, Siyasi, Aktüel Haber Dergisi of Ankara.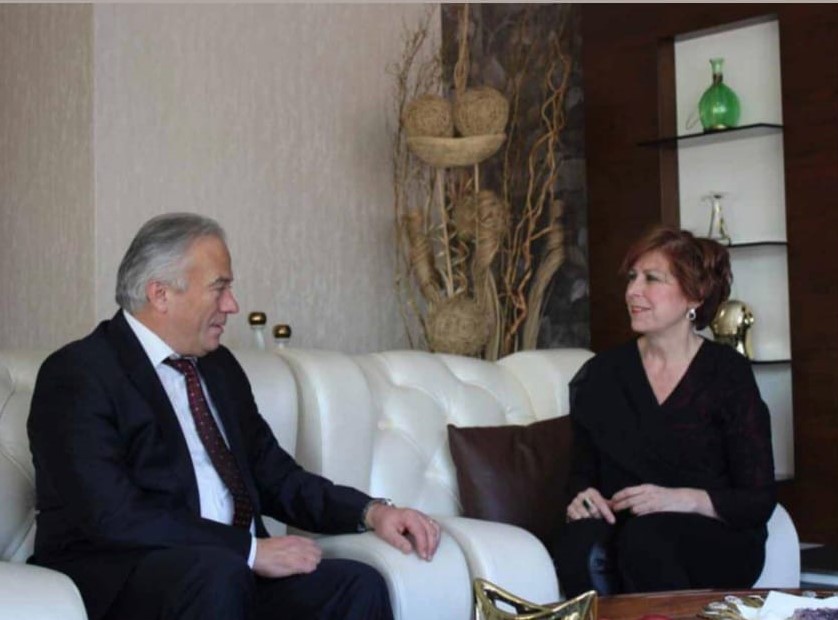 The Association was established in 2008 and since then it has held a lot of projects under Erasmus+ Youth Program. In fact S&G is accredited as a Sending, Hosting Organization and Coordinator in European Voluntary Service (EVS), and it enabled hundreds of youth to join the domestic and foreign mobility. Moreover, it has to be underlined as S&G has carried out the first Large Scale EVS project centered in Brussels and supported by our country.

Some of the most remarkable projects:
2013 Turkey - "Mirror Project" Interaction Between Generations For Active Life - Ankara Development Agency,
2015 Turkey - "TRIANGLE.net" (Devices For Fair and Non-discriminatory Health Care of the Elders - Civil Society Dialogue),
2015 Turkey- Imagine: Migrant journeys from Syria to Europe - Anna Lindh Foundation,
DBN – Dialogue Between Neighbors; Volunteering for Generation; Meeting of Generations (EVS); Join our Intergenerational Journey (EVS); Volunteering with S&G (ESC); Internalization and Good Governance Policies Forum for Youth Centers(KA3); 3.S for Intercultural Citizenship Education(ALF) and tens of projects were completed successfully.
They gave consultation to the European Commission's Vice-President visiting our country thanks to the invitation of Turkish National Agency on the date of 06.12.2019. They proposed to include Erasmus + section in visa types.
For the purpose of increasing the awareness of the youth social entrepreneurship and volunteering, they have been working on building "Social Innovation Youth Center" and "Center for the Improvement and Application of Volunteer".
They are conducting fieldworks with Youth Caravan, The Visa-free Caravan, Social Entrepreneurship Caravan. They are going to participate in MEDForum 2020. They developed an educative game named as The Journey with a project supported by ALF and they won the Eurodesk European Network 2017 Prize.
They established System and Generation International Association'u AISBL in Brussels on 28 October 2019 and they continue their works in Brussels.
It is an active member of European Network of Youth Centers, Network of Eurodesk Turkey and ALF Turkish Network.
S&G SOCIAL ENTREPRENEURSHIP CARAVAN
S&G Social Entrepreneurship Caravan and Ankara Social Entrepreneurship Platform (SGA) actively participated to Competition of Social Entrepreneurship for Youth conducted in 13 universities by Ankara Development Agency in order to improve the ecosystem of entrepreneurship in Ankara and increase the number of young social entreprises. Between 246 applications, the teams who were supported to realize their opinions through the mentorship program and an intense education including presentations, development of business models, social influence, social entrepreneurship during the program aiming to create a social influence and proposals to the social problems with business model; competed at the final stage of the competition. http://www.sosyalgirisimankara.org.tr/
ALF TURKEY NETWORK COORDINATORSHIP
S&G, with STKED, works as Coordinators of the Turkish Network. Anna Lindh Euro-Mediterranean Foundation for the Dialogue Between Cultures was established for the purposes of bringing communities and people on both sides of the Mediterranean, getting closer to each other and carrying out joint projects. The foundation, established by 44 members of the Euro-Mediterranean Cooperation, supports civil society for the common future of the region and brings people together to develop intercultural cooperation in the Mediterranean. With the participation of the Ambassadors, a meeting was arranged in Ankara for MedForum2020 which is going to be held in Croatia on 3-5 April 2020.
REPUBLIC OF TURKEY MINISTRY OF FOREIGN AFFAIRS DIRECTORATE FOR EU AFFAIRS
Deputy Minister of Foreign Affairs and Director for EU Affairs Ambassador Faruk Kaymakcı met with Nebil El Şerif, Executive Director of the Anna Lindh Foundation. During the meeting with the delegation including Coordinators of the Turkish Network of the Anna Lindh Foundation Prof. Dr. Necdet SAĞLAM and Gürkan AKÇAER, biliteral co-operation opportunities about Turkey as a Northern Mediterranean country were discussed in detail.
S&G SOCIAL ENTREPRENEURSHIP CARAVAN IN MEDFORUM 2020
The Social Entrepreneurship Caravan is going to be on the road from Ankara on 21 March 2020 and participate to MedForum2020 held in Šibenik/Croatia on 2 April 2020.
S&G Social Entrepreneurship Caravan is going to emphasize the importance of the Reproduction and the Social Entrepreneurship with its message «Kotlar Sizden, Makaslar Bizden» in this Forum hosting almost 1000 participants from 42 countries. They are going to take the road to Brussels on 5 April 2020. System and Generation International is going to visit Brussels and tell about Social Entrepreneurship on Skylive TV.