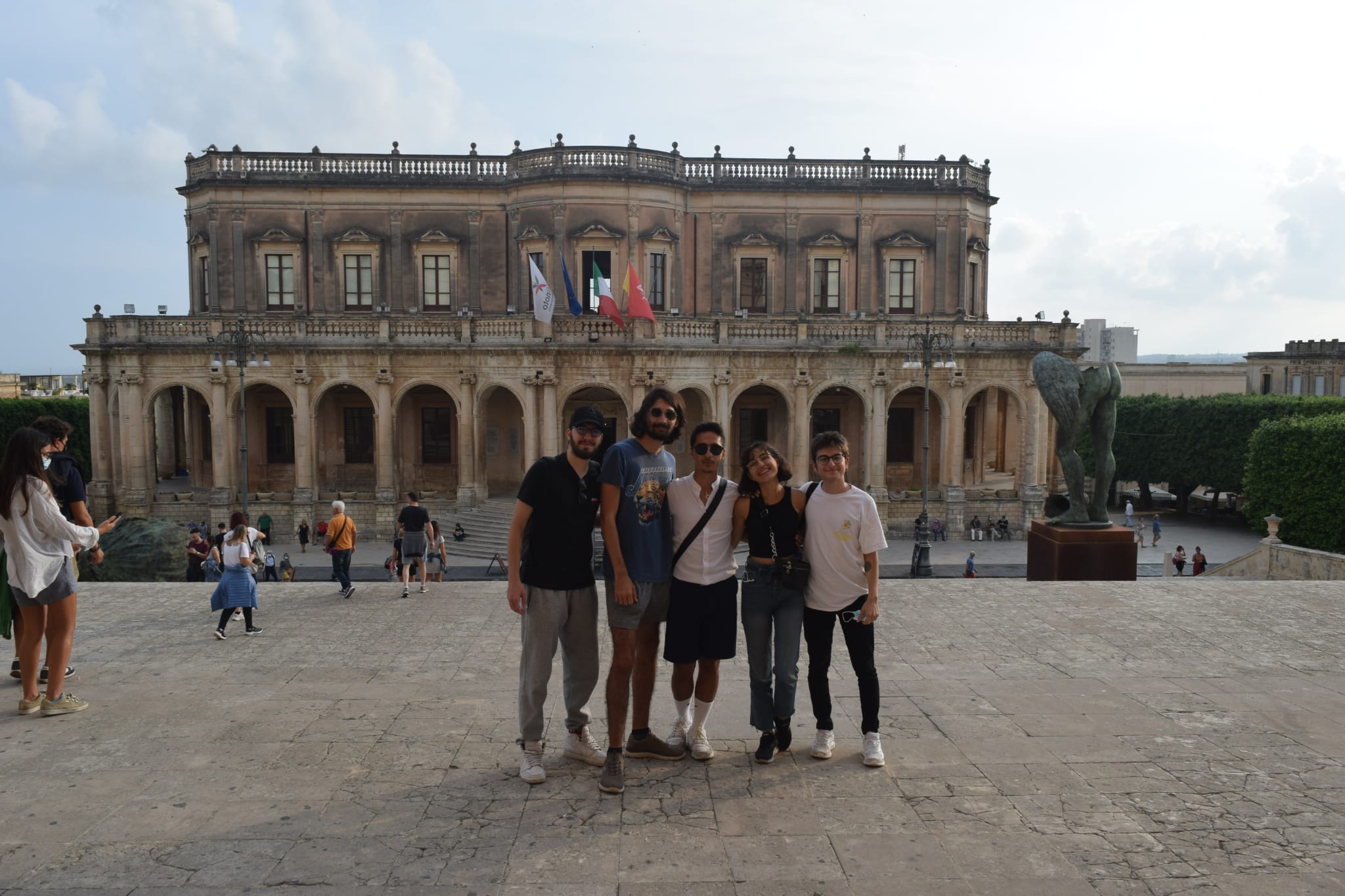 Elif: "It was an once in a life time oppourtinity when I consider that it developed my human relations, perspective in entrepreneurship and feel the joy of learning. I closely observed how to start-up a work enviroment. The location -Sicilia/Italy- also enhanced the experience by the perfect cultural fabric it has. Also I have the chance to work with the fantastic volunteers from different parts of the world. I am looking forward to share my experiences with my friends from entrepreneurship ecosystem. I would like to thank everyone who contributed to this magnificent project."
Yağız: "My trip to Italy started a little tiring. After a total of six hours of travel, I arrived at Catania airport. After a two and a half hour bus ride from the airport, I arrived in Noto. Marco, who also hosted the project, picked me up from Noto, and that's how my first day started. Since entrepreneurship was the main topic of the project, the plans were aimed at seeing local initiatives in place. Our first day's visit was to a local wine house in Noto. At the wine house, they showed us how wines are made, what stages they have gone through. I've never seen how wine is made on the spot in my life. It was a really nice experience. On the second day we visited a local almond factory. This factory is not used today and serves as a museum. There I also saw the tools that have been used for almonds in noto since time immemorial. This trip was also quite interesting and useful for me. After these trips, we exchanged ideas about entrepreneurship with four different countries and finished our trip. I would like to thank S&G for giving me this opportunity and for their efforts."
Eren: "It was a very enjoyable 3 days in Noto, an amazing city. It was a great pleasure to listen to how different people carved their own paths. Besides, it was a unique experience to do all this with quality and dynamic people. Thanks for everything System & Generation Organization."
Atilla: "Being in Sicily for this project with a great team and friends was a delightful opportunity. Visiting Italy was a long-time dream for me and it finally happened thanks to this StudyVisit. Seeing the best part of Noto, Avola, and Syracuse and being out there, exploring the rich and beautiful Baroque architecture of Sicily while eating lots of delicious pasta, eggplants and pizza are such great experiences that are hard to forget soon. This project enabled me to know new people who are excited about entrepreneurship as much as me. I met experienced entrepreneurs who had many ideas and recommendations to share with me. While enjoying the fresh and clean air of the Italian countryside, I found the chance to improve my skills in human relations. In conclusion, I feel extremely grateful and lucky to be involved in this project"
Ferhat: "Being in Italy for a study visit was a particular experience for all participants and me. Thanks to this visit, we had the opportunity to see examples of entrepreneurship in the region, while enjoying the atmosphere, food, architecture and culture of southern Italy. As a result of these visits, whilst we were comparing some entrepreneurial activities in Sicily and in our own country, we also heard new information about this topic from the entrepreneurs at first hand. Throughout the project, listening the opinions of the participants from other countries on this subject and explaining our perspectives to them was one of the useful parts of this event. Brieflyt, it was an efficient and effective study visit, thanks to the location of the project and the compatibility of the participants. I feel delighted to participate in such a project, it has been a really sufficient experience for me."